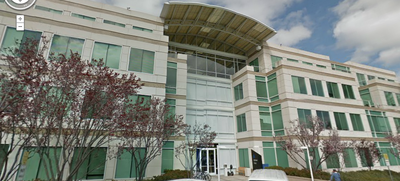 1 Infinite Loop is Apple Inc.'s headquarters in Cupertino, California, USA. Construction finally became complete in 1993
Buildings inside of Infinite Loop
Infinite Loop also houses The Company Store (Apple's corporate store) (where people can go and buy Apple-logo merchandise ,employees apparently get a discount. The store is the only place in the Campus that is open to the public), The inside of 1 Infinite Loop is restricted to employees and persons outside of Apple accompanied by employees. A large car park is on the outside of 1 Infinite Loop.
Trivia
The name was inspired by the concept of the infinite loop in computer programming.
Employees working at Apple's headquarters normally refer the building to 1IL through 6IL for the buildings.
Infinite Loop was originally home to the Four Phrase Systems company (which was later acquired by Motorola).
In 2008, a fire struck Valley Green 6 (on the second floor). Firefighters worked for many hours to fix the fire. Although nobody was injured, an estimated $2 million was damaged through the fire.
Sources and References
Ad blocker interference detected!
Wikia is a free-to-use site that makes money from advertising. We have a modified experience for viewers using ad blockers

Wikia is not accessible if you've made further modifications. Remove the custom ad blocker rule(s) and the page will load as expected.